This is a review of one of the best Free Affiliate Marketing Courses out there: 90 Minute Affiliate Challenge.
What is 90 Minute Affiliate Challenge?
90 minute affiliate marketing challenge is one of the Best affiliate marketing courses out there and the best news about it is – it is totally FREE!
90 minute affiliate marketing challenge is a totally free High Ticket Affiliate MArketing Course by Brian Brewer.
It consists of 8 steps (Brian calls them secrets) to start making money online using High Ticket Affiliate Marketing. After completing the course you will be able to start earning money in this highly growing space.
The way Brian explains things is very simple and straightforward.
Who is Brian Brewer?
Brian Brewer is a multiple 6 figures affiliate marketer who earned more than $400 000 last year doing exact things and using the strategies that he gives you in this 100% free affiliate marketing course.
He started his online business 9 years ago while working as a waiter and quit his job pretty soon after starting. Brian was promoting Shopify at first, but is now one of the biggest Legendary Marketer and ClickFunnels affiliates (4x Platinum status in Legendary and Dream Car winner in ClickFunnels).
Legendary Marketer 4x Platinum status means he has made over $400 000 with this program alone.
The level of transparency Brian uses in his course and all the content he creates daily is just awesome, he lays out every single detail and strategy he uses in his every day efforts.
How to get 90 minute affiliate challenge?
You can get 90 minute affiliate marketing challenge here by just signing up to it. The course itself is totally free, but you can get 2 up-sells which we will talk about a bit later.
What do you get in 90 minute affiliate challenge free course?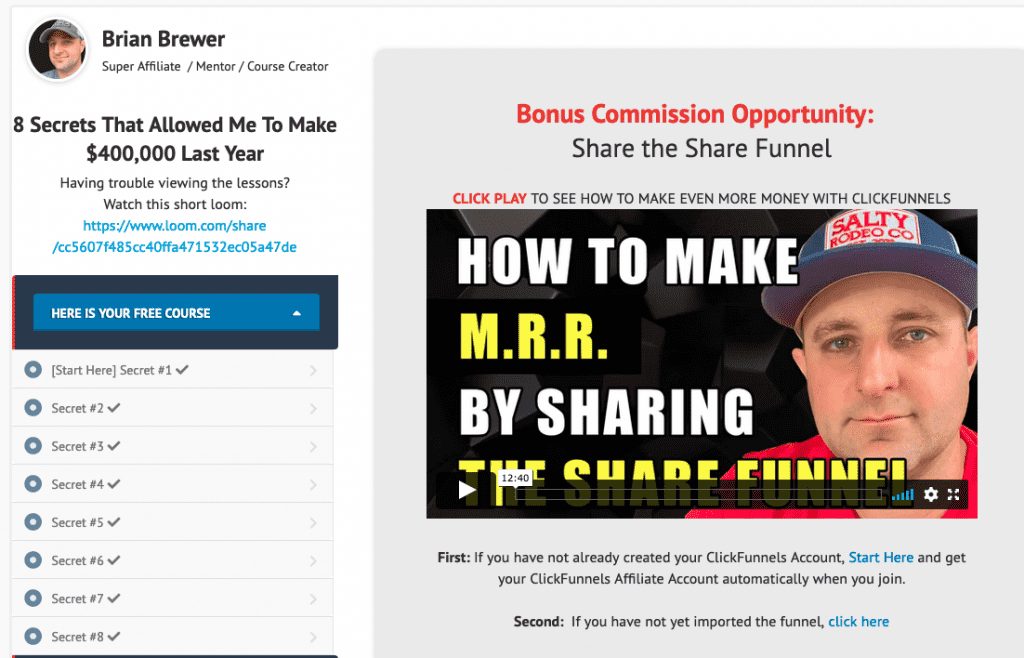 Like we said before, 90 minute affiliate challenge contains 8 secrets or steps in which Brian Brewer is explaining the business model and the strategies which lead to results.
Secret 1 – Intro to Affiliate Marketing
Secret 2 – Go where the money is
Secret 3 – The real reason it took me so long
Secret 4 – Keep it simple
Secret 5 – Trust the market
Secret 6 – Funnels are your friend
Secret 7 – Succeed 2x faster with me . L.D.T. formula for Affiliate Marketing
Secret 8 – Monetize from Day 1 and set yourself for a journey of success
90 minute affiliate challenge pricing and upsells
90 minute affiliate marketing challenge is totally free. However, you can 2 up-sells which are highly valuable, especially if you are non-technical person or you are inpatient to start your Affiliate Marketing business as soon as possible.
The first up-sell is Done For You Funnel and Done For You email sequence ($9), which are ready to be imported into totally free Funnels builder software and Email Responder called Systeme.io. It also includes ClickFunnels Done For You funnels plus funnel for promoting Legendary Marketer. This is worth at least $99, but costs only $9!
The other up-sell is 101 Viral Content ($37) which explains in details the Hook – Story -Offer winning formula for creating Viral short form video content and make money from it.
After you get the FREE course, you will get access to an excellent private Facebook group, in which you can the old FREE course, which is more technical and in-depth inside that group.
Basically, you are getting 2 totally FREE courses that will certainly make you ready to start your High Ticket journey.
What is next?
After you finish the free 90 minute affiliate challenge, you can become an affiliate for the free course and Affiliate Escape Plan, which is a High Ticket Course that costs $997 ( or only $149/Mo for 10 Months).
Affiliate Escape Plan is high ticket Affiliate Marketing Course and Training by Brian Brewer that consists of 14 highly valuable lessons on Affiliate Marketing.
You also get access to Brian's bi-weekly Mastermind where you get fresh perspective and new tips and tricks of 6 figures Affiliate Marketer directly by talking to Brian. He usually has Q& A sessions in his mastermind where you can ask anything and he will help you as a true Affiliate Marketing Mentor.
Conclusion
90 minute affiliate challenge is really no-brainer free course that will get you started making money online, teach you the fundamentals of affiliate marketing and set you on a course of success.
What makes this course so unique is Brian's experience as Affiliate Marketer, his passion to share everything that he does as a marketer.
I warmly recommend you go through the free course and buy both upsells. Then immediately implement what you learned in the course and start making your first commissions online, you can even promote this free course.
After that you should really get Affiliate Escape Plan and widen your knowledge in the road to your success.