Did you know that you can create website in Canva totally for FREE!? You can even host it on Canva for free.
A lot of times people are wondering how to build a quick and free websites. Usually there are options to build on some SaaS platform or on WordPress, most of the times, these solutions are not the quickest (nor totally free). Can you create Canva websites?
Canva is a free online tool for creating professional looking graphics. It's simple to use and has many features that will allow you to create great designs quickly. And from now it is possible to create website in Canva. And this article will teach you how.
What is Canva?
Canva is the design software that makes design simple, convenient, and reliable. Create what you need in no time! Jam-packed with time-saving tools that make anyone look like a professional designer.
It has become an industry standard for creating design for any social media and a favorite tool of every affiliate marketer out there.
Canva is a free-to-use on-line graphical device that mixes design, picture-graph editing, and format to assist instructors and college students and marekters create superbly completed projects.
Canva may be utilized to generate posters, guidance, and projects, however it may additionally be accessed through college students for tasks.
It has a plethora of integrations to social media, Google Classroom and similar, which helps you use it for literally any purpose.
Who is Canva for?
Canva is best suited for small business owners, online entrepreneurs, and marketers who want to design things quickly.
To design great visuals, a tool such as Photoshop or Figma is ideal. But to use it well can take a lot of time to learn its hundreds of features and get familiar with the software, and it's best to have a good background in design. Canva can help, both with million of elements, templates and helpers you can use with just few clicks.
How To Use Canva?
Using Canva is pretty straightforward. Basically you just click or drag things around. Canva is very user friendly.
Can You Make A Website in Canva?
Yes. 100%.
You can make a website in Canva even in a FREE Canva version by simply searching for the word "website" and following instructions.
How to design a website in Canva?
It is pretty straightforward, like you can see in a short video below:
Basically, you can create website in Canva by searching for a word "website" inside Canva's search bar.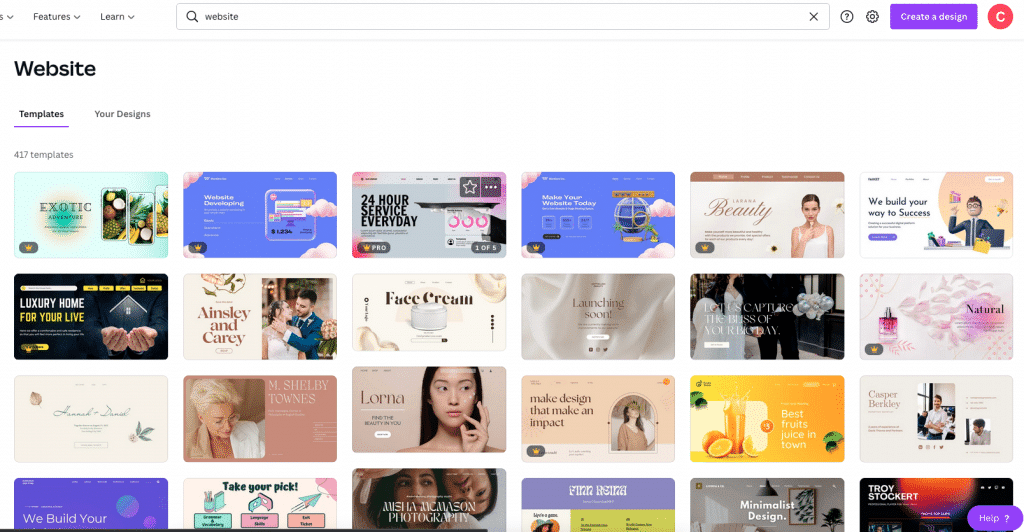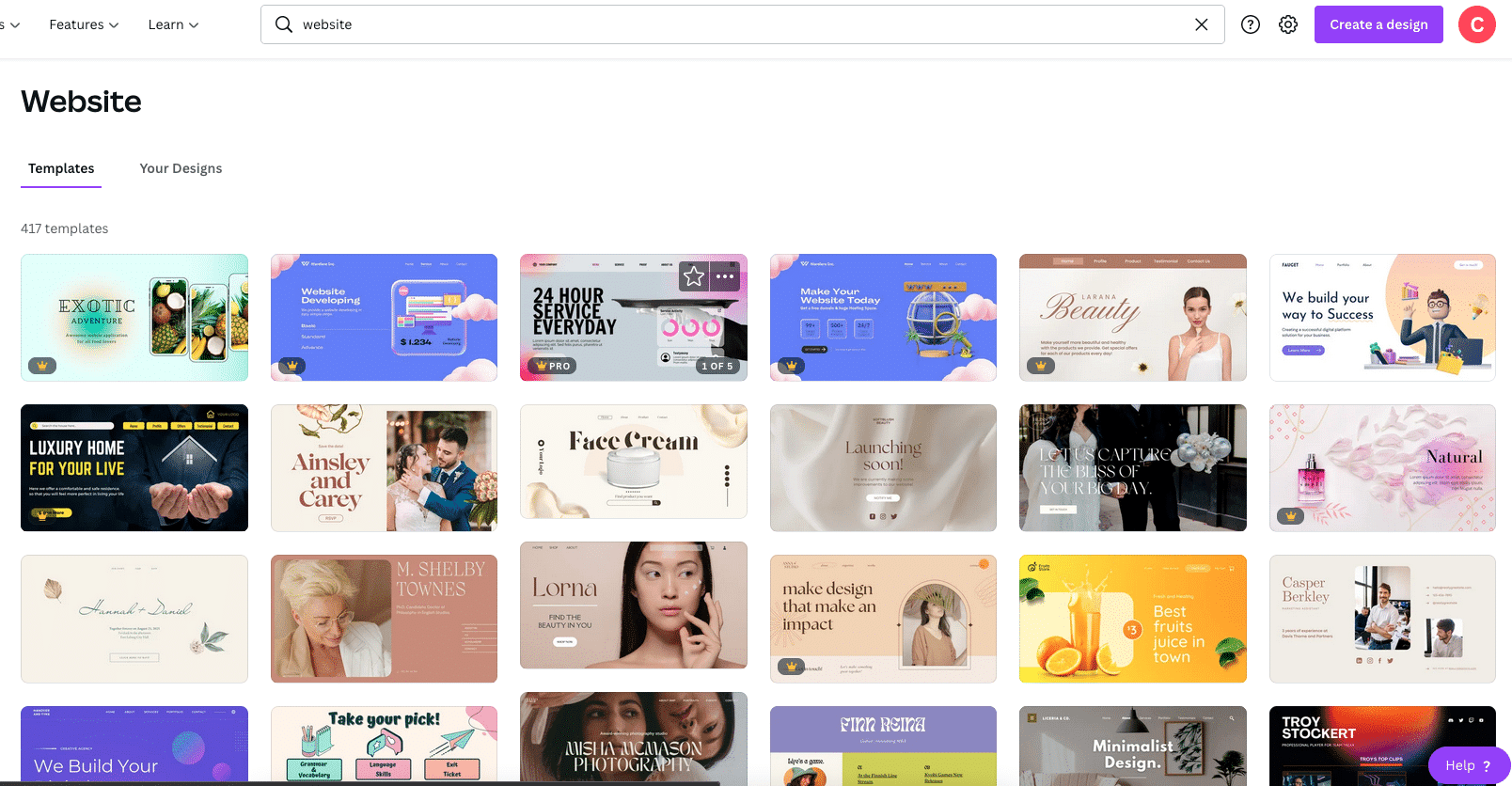 You will get around 417 templates from which you can create a website in Canva, most of them are totally free.
If you want to try Canva Pro for 14 days, you can click this special invitation link to join Canva
After you select a template, you can edit the pages, remove them, add new ones, everything like you usually do in Canva… And that is how you can get Canva websites for free and how to design a website in Canva.
How to publish your website on Canva?
After you are ready and finished Canva website template, you can edit few option like adding Canva website custom url, setting password protection and title and SEO description.
There are 3 options available:
Free domain – which hosts your site on a totally free Canva subdomain.
Purchase a domain through Canva – which let's you purchase a domain and host it on Canva
Use your own domain – if you own a domain, you can use it also
How to create link in bio type website in Canva?
One of the great things I have found in Canva is that they have a lot of Link in bio types of website templates.
Link in Bio website is used in social media where you link from your profile to somewhere. Most affiliate use it to link to their Sales funnels. As you can usually have only 1 link in bio, this types of websites are ideal to have multiple buttons or links on them…
Go to Canva and search for "link in bio" and you will get the templates which you can create and host absolutely free on Canva.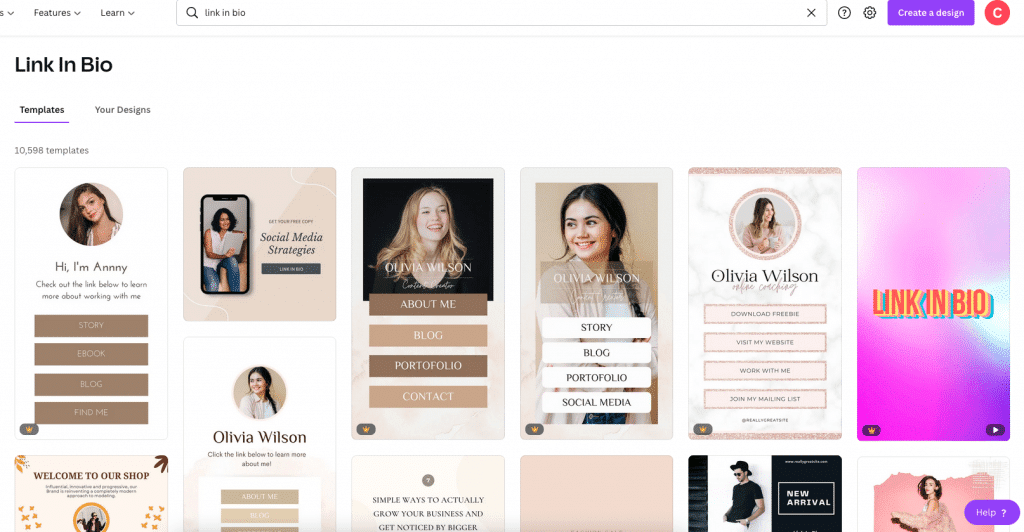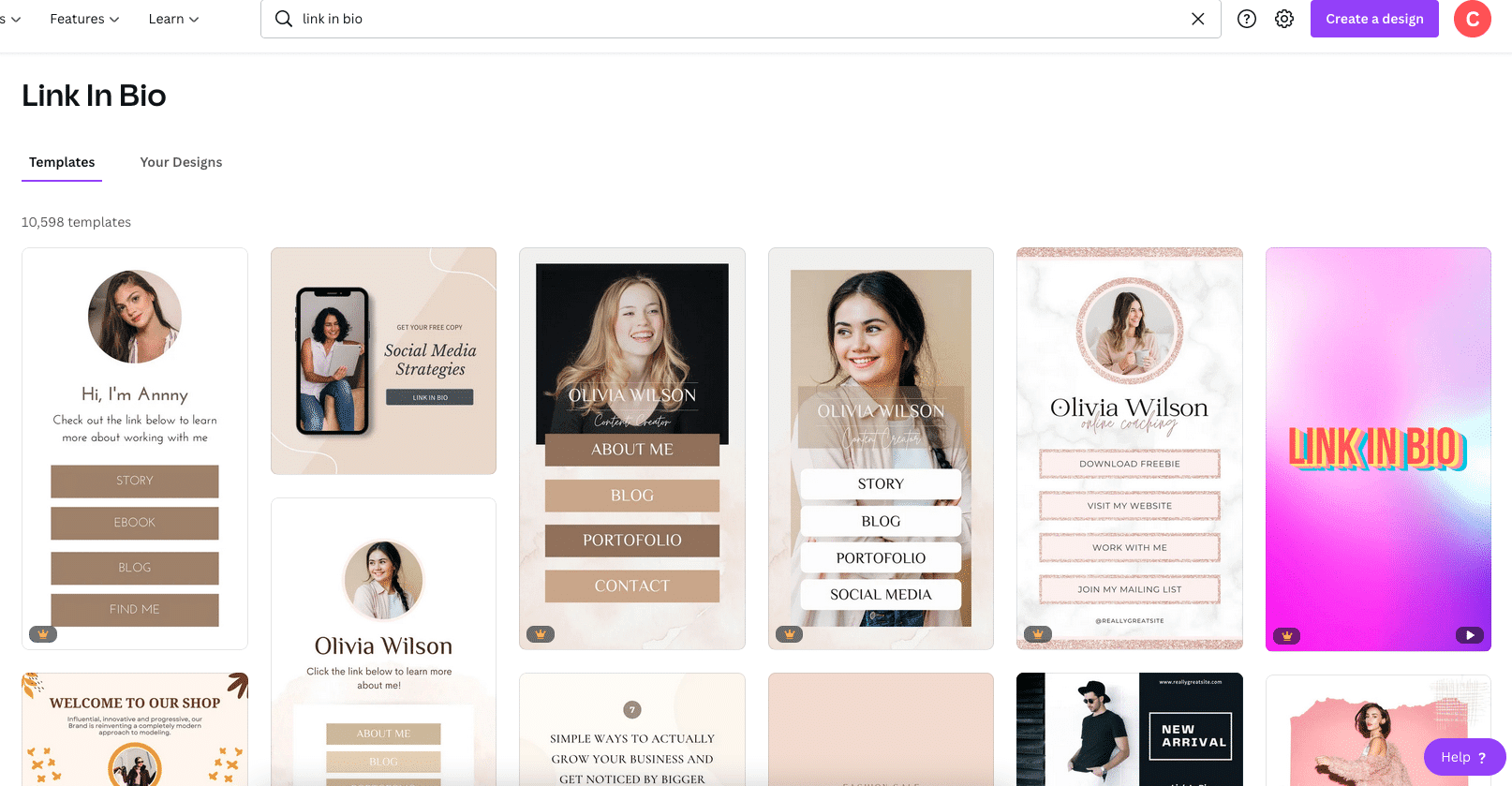 What are Canva Websites?
Canva websites are websites built with Canva Websites tool explained above. It is actually using Canva to HTML to build a versatile Canva websites for free and even host it inside Canva Cloud.
Conclusion on create website in Canva
Canva is very versatile and sophisticated tool which you can use for free to build, create, edit and host your websites.
It is ideal for beginners who does not want to spend to much time or money on creating website, they can create website in Canva.
I suggest you try the Pro version of Canva as it has valuable tools like Background Remover, Resize designs with one click and millions of resources like videos, elements and similar.